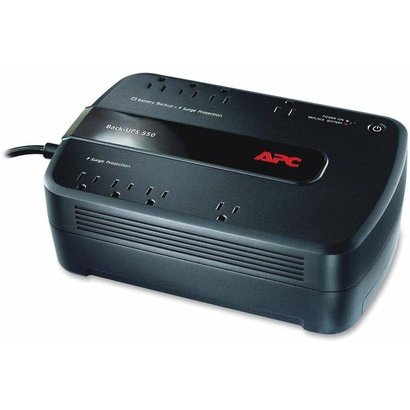 APC BE550G Back-UPS 550VA 8-outlet Uninterruptible Power Supply (UPS)
AP-BE550G
Availability:

In stock (4)
Product description
Brand:

APC

UPC:

731304258940

Article number:

AP-BE550G

Availability:

In stock (4)
Battery Backup & Surge Protection for Critical Electronics
Back by popular demand, the BE550G represents APC's proven power protection. When power is interrupted or fluctuates outside safe levels, the BE550G instantly provides clean battery power to your sensitive electronics. Ideal for home and home office devices.
Device Recommendations During an Outage
Plug in the devices you consider critical to the Battery Backup with Surge Protection:
Surge Protection Only: Scanners, printers, small electronics
Battery Backup with Surge Protection: Computers, home entertainment systems like televisions, cable boxes, streaming devices, routers, modems, smart phones, tablets, monitors, laptops and IoT devices.
Why use an Uninterruptible Power Supply (UPS)?
Stay connected to your critical devices with a dual outlet selection; battery backup with surge protection and surge protection only outlets
During an outage, the battery backup surge protected outlets deliver clean power for up to an hour depending on the power load of connected devices
All outlets provide surge protection & will protect your electronics from power disturbances caused by power line surges or voltage electrical spikes
Peace of mind – APC provides a 3 year, $75,000 Equipment Protection Policy on the BE550G