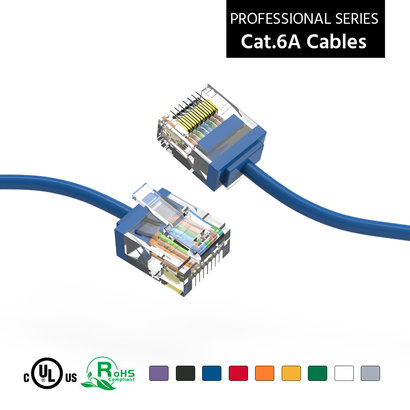 Cat6A UTP Super-Slim Ethernet Network Cable 32AWG Blue (Choose Length)
NC-59701
Availability:

In stock (100)
Product description
Brand:

Gigacord

Article number:

NC-59701

Availability:

In stock (100)
Cat 6A Super-Slim Line Ethernet cable is the solution to reduce congestion in high-density CAT6A Network environments, such as data centers telecommunication and server rooms , with the Cat6A Super-Slim Line you can fit more cables in the same space, cable diameter is almost half a standard CAT 6A cable.
* Wire Gauge 32AWG
* OD 2.6mm
* CM PVC Jacket
* RJ45 Connectors on both ends
* TIA/EIA * T-568b Standard wiring UL / RoHS Compliant
* 100% Pure copper wire
* 50 Micron Gold plated RJ45 Plug
* RoHS compliant
* Design for networking adapters, Hubs, Switches, Routers, Modem
Product Number: Length
NC-59701: 1ft.
NC-597015: 1.5ft.
NC-59702: 2ft.
NC-59703: 3ft.
NC-59704: 4ft.
NC-59705: 5ft.
NC-59706: 6ft.
NC-59707: 7ft.
NC-59710: 10ft.