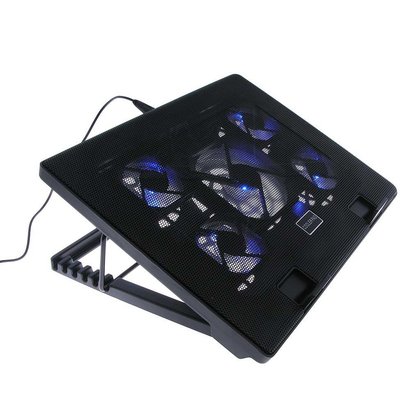 Cooling Pad for 12- 17" Laptop, Multi-angle Stand 5 Fan, USB Port
FN-280206
Availability:

In stock (2)
Same day shipping on orders before 3:00 PM PST Mon-Fri

Real time inventory!
Product description
Article number:

FN-280206

Availability:

In stock (2)
Cooling Pad for 12- 17" Laptop, Multi-angle Stand 5 Fan, USB Port
Multi-angle Notebook Cooler Pad
Protect your laptop from overheating with this unique anti-slip cooling pad designed to ensure notebook safety.
Main Features:
* 2 USB Ports to expand connectivity.
* 6 Height adjustment levels for optimal working.
* The ultra slim size allows you to easily carry it .
* Holds any notebook from 12~17"
* Unique anti-slip design ensures notebook safety
* USB Powered
Product Specifications:
* 3Ft USB Cable included
* Box dimensions 15.75x12x2 inch
* Unit dimensions 15x11.75x1.5 inch at lower height level
* Unit dimensions 15x11.75x6 inch at higher height level
* 5 Fans built-in 1 (120x120x25mm) 4 (70x70x15mm)
* Fab speed 1 (1000 + 10% RPM) 4 (2000 + 10% RPM)
* Air volume 74.35 CFM
* DC 5v
* Power 1.75W
* Box qty 10
* unit weight 2.80 Lbs