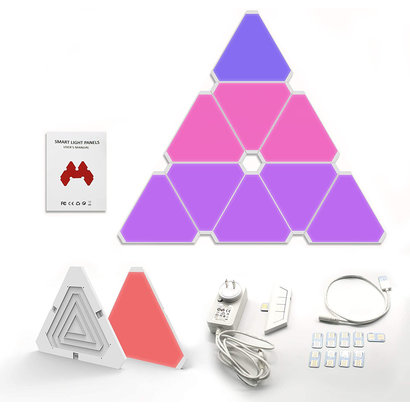 Cryo-PC Smart LED Triangle Light Panels Kit 16M Colors, Pack of 9
CPC-TLP01
Availability:

Out of stock
Product description
Brand:

Cryo-PC

Article number:

CPC-TLP01

Availability:

Out of stock
Unite and extensive number of light panels: You can use unlimited number of triangle light panels, although we highly recommend connecting a USB power cable for every 9 lights for ideal use. Each triangle has one sticking out magnet side which is not only for fixing the light, but also to conduct electricity.

Push Button ON/OFF: The Wall-Mounted LED Light is turned on and off by push button. There is a power button plus an effect and color changing button. The Rhythm Smarter Kit modify your desired songs into dancing symphonies of color and light.You can use these gaming lights for your wall and you can adjust the colors of the light according to you gaming room theme.The 16 M colors of these triangle led lights gives you a large amount of colors to choose for your best option.

EASY TO CONTROL USING VOICE OR THE APP: This triangle wall lights easily control by using   app on your smartphone like TUYA SMART or push button and voice control or bluetooth, you have all the freedom to really change up and mess up with your color effects, whatever design you make it will appear there on the app decorations.

Triangle Shape and Minimalist Design: This Wall-Mounted LED Light panels are available in triangle shapes with 16 M color burst flame for games rooms, hallway walls, Christmas Decoration and kitchen. This Triangle interweave wall lights have nine Light Panels, nine linkers, nine mounting stencils, one Rhythm Module and 28 mounting strips.

Product Quality Guarantee: This Triangle interweave wall lights has passed our quality inspection; rest assured and enjoy the product with the help of user instructions. If you get a defective item or feel any trouble regarding the function of this item, please reach out to our support team.