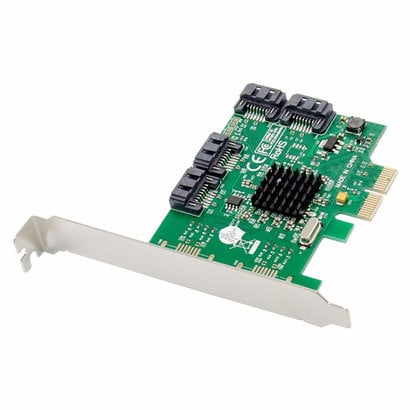 Cryo-PC 4 Port SATA 6Gbps PCIe 2.0 x1 RAID 0 1 10 Controller Card
CPC-48530
Availability:

In stock (10)
Product description
Brand:

Cryo-PC

UPC:

643361485309

Article number:

CPC-48530

Availability:

In stock (10)
Marvell 88SE9230 SATA Raid card, Adoption PCI Express 2.0 x2 Bus interface, supports up to four SATA 6Gbps interfaces and can be flexibly converted to external eSATA, can use up to three SSDs and one mechanical hard disk at the same time, supports hardware RAID in disk array 0/1/10, in addition, also supports AHCI original driver, 128/256-bit AES encryption, 32 NCQ commands per port, port multiplexing, FIS-based switching, and more.
HyperDuo, RAID 0/1
Coexist on this controller, can achieve 2 solid state drives, plus 2 mechanical hard disk RAID 0/1 combination. Marvell has added HyperDuo embedded processor technology, which is designed for use in a mix of solid state drives and mechanical hard drives, automatically identifying the most frequently accessed data and files and optimizing performance.
Safe Mode
Mirror the data of the SSD to the mechanical hard disk to optimize data protection;
Capacity Mode
Combine the capacity of the solid state drive and mechanical hard disk into one.
Both modes automatically recognize the LBA range of SSDs and mechanical drives, ensuring the same user experience.
FEATURES
• Compliant with PCI-Express Specification V2.0 and backward Compatible with PCI-Express 1.x
• Compliant with Serial ATA Specification 3.0
• PCI Express x2 interface and compatible with PCI Express X4 ,X8 and X16 slots
• Supports communication speeds of 6Gbps \ 3Gbps \ 1.5Gbps
• Support Native Command Queue (NCQ).
• Support Port Multiplier FIS based switching or command based switching
• Compatible with SATA6G,3G and 1.5G hard drives
• Support RAID function: RAID 0, RAID 1, RAID 10, and HyperDuo
• Hot plug and Hot Swap