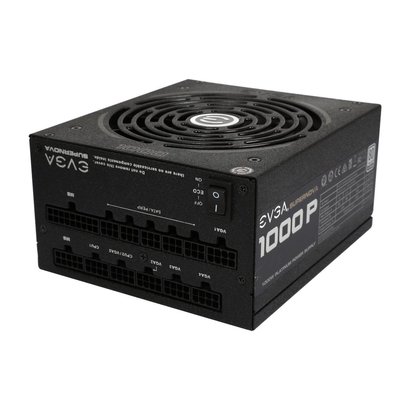 EVGA SuperNOVA 1000 PS, 80+ PLATINUM 1000W EVGA ECO Mode, Fully Modular ATX Power Supply 220-PS-1000 (Bulk Pkg)
EV-220PS1000
Availability:

In stock (10)
Product description
Brand:

EVGA

Article number:

EV-220PS1000

Availability:

In stock (10)
Fully Modular Cabling
Fully Modular to reduce clutter and improve airflow
Eco Mode
Fan does not switch on until PSU load is above 25%
Standard ATX Form Factor
Will fit most mATX, ATX, EATX, HPTX, and XLATX cases
Features

Single +12V Rail
A single +12V rail offers the best power output, rail stability and compatibility with the latest hardware. EVGA SuperNOVA 1000PS provides up to 83A on a single rail!

LLC Resonant Circuit Layout
Full DC to DC, LLC resonant circuit design improves efficiency.

Fully Modular
Fully modular designs allows every single cable to be removed from the power supply for ease of installation and removal. You can also leave off unnecessary cables to reduce case clutter and maximize case airflow.

Highest Quality Japanese Nippon Chemi-Con Solid State Capacitors
Get the most reliability and greatest performance with the use of the highest possible quality Japanese solid state capacitors.

Teflon Nano-Steel Fan Bearing
High-quality Teflon Nano-Steel bearing ensures long life and nearly silent operation.

Platinum Rated Efficiency
80 Plus certification ensures your power supply isn't wasting power and turning it into excess heat. Under typical load this power supply is 92% efficient or higher.
Fan Noise Chart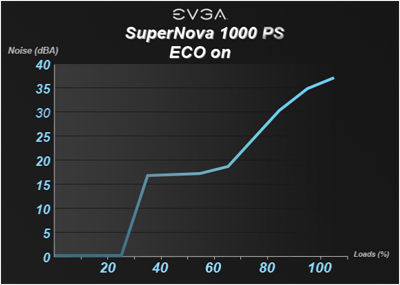 ECO mode, keeps the fan off when unneeded, and is only ran at the lowest speed needed to keep the internals cool.
Hardware Protection
While being silent, this entire series has a large single 12volt rail, providing plenty of power to fuel all of your hardware. And lastly, because power without safety is pointless, a full suite of top tier circuit protections to keep you running strong and your hardware safe.
OVP (Over Voltage Protection)
UVP (Under Voltage Protection)
OCP (Over Current Protection)
OPP (Over Power Protection)
SCP (Short Circuit Protection)
OTP (Over Temperature Protection)
Awards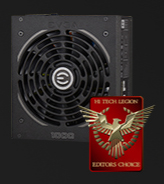 Hi Tech Legion 2015.03.01
"EVGA cut no corners using the closest tolerance and best quality components available in the 1000 PS, and it is reflected in the performance. Regulation on all rails was excellent, with power delivery having almost no fluctuation under loads and never dropping below rated voltage on any rail. While ECO mode worked as intended, we found little need for it as the 1000 PS does live up to its "silent" title, and was never audible over case fans in load conditions, and with ECO disabled was still not audible under any condition."