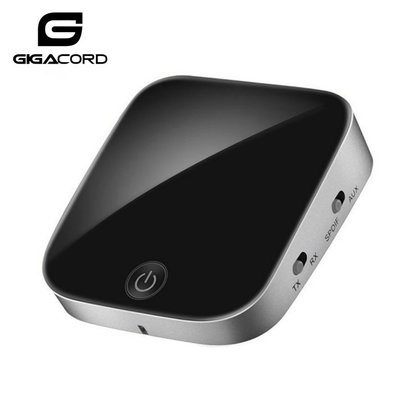 Gigacord Bluetooth 4.1 2 in 1 3.5mm AUX optical bluetooth receiver and transmitter Wireless Audio for TV and PC
GC-02900
Availability:

In stock (14)
Product description
Brand:

Gigacord

Article number:

GC-02900

Availability:

In stock (14)
GC-02900 is a Stereo/Fiber-optic Bluetooth 2in1 Adapter
GC-02900 supports one function and two functions (two stereo BT speakers or stereo BT headphones can be connected at the same time in TX state, two speakers/earphones can simultaneously emit sound; in RX state, two mobile phones can be connected at the same time,but only the first connected one will get work.
The CSR BC8670 BT chip is used as the core data processing. 
The BT version is: V4.1
Transmit power: Class II, use range within 10 meters (actual range depends on the equipment connected to it) 
Frequency range: BT standard, 2.402 ~ 2.480GHz 
Master chip data storage uses internal 16M FLASH memory
Support A2DP AVRCP protocol 
It can be connected with BT speakers or headphones that support A2DP protocol to form a wireless audio transmission network for use in TVs, CDs, home theaters, etc. 
It can also be connected to a mobile phone/computer for playing music. 
Support for SBC, APT-X and other CODECs Supported BT speaker or headset pairing security keys are: 0000, 1111, 1234, 8888. 
Receive status usage time (AUX) for about 15 hours 
The launch state usage time (AUX) is about 15 hours.
Receive status usage time (SPDIF) for approximately 12 hours 
Launch state usage time (SPDIF) for approximately 12 hours 
Charging time is about 2 hours 
Charging input requirement: 5V DC ≥300MA 350mAh lithium ion polymer rechargeable battery 
Working temperature: -10-55 ° C