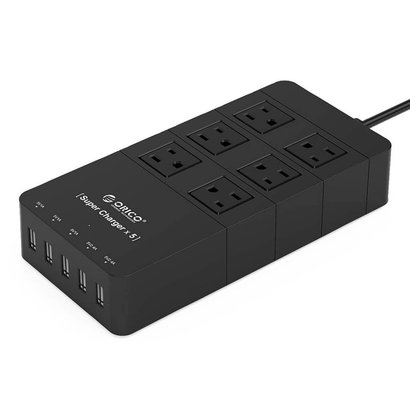 ORICO Family Size 6 Outlet 1700 joule Surge Protector Power Strip with 5 USB Charging Ports 40 Watt, Black (HPC-6A5U)
OR-HPC6A5UUSBK
Availability:

Out of stock
Same day shipping on orders before 3:00 PM PST Mon-Fri

Real time inventory!
Product description
Brand:

ORICO

Article number:

OR-HPC6A5UUSBK

Availability:

Out of stock
ORICO 6 AC Outles and 5 USB Charger Surge Protector (Black)The Ultimate Charging Platform
Surge Protection for Precise Instruments: Protect all of your precious devices from static electricity, power surges and power failures.The ORICO HPC-6A5U is an ideal solution for protecting all of your electronics!Charging Cradle for Your Devices
With integrated intelligent fast charging technology, the ORICO HPC-6A5U provides a convenient charging experience and avoids the clutter of external wires, all while protecting your devices!Fast Charge Your Devices
Tired of waiting so long to charge your smartphones? ORICO's Super Charge technology outperforms traditional charge rates with a 0.06A - 2.4A (MAX) current. This means less waiting for your phone to charge and more getting things done!Intelligent Current Recognition
This surge protector add a USB controller and intelligent recognition functionality, which is compatible with your different devices and automatically matches the appropriate power supply for your phones, tablets and more!