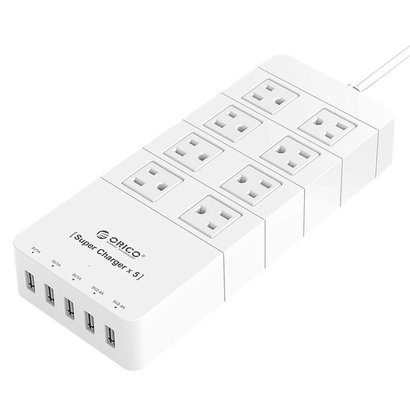 ORICO Family Size 8 Outlet 1700 joule Surge Protector Power Strip with 5 USB Charging Ports 40 Watt, White (HPC-8A5U)
OR-HPC8A5UUSWH
Availability:

In stock (10)
Product description
Brand:

ORICO

UPC:

6954301129738

Article number:

OR-HPC8A5UUSWH

Availability:

In stock (10)
ORICO Family Size 8 Outlet 1700 joule Surge Protector Power Strip with 5 USB Charging Ports 40 Watt, White (HPC-8A5U)
High-end Design and Excellent Performance
ORICO high-end designed surge protector has enough power outlets to handle all your devices at once. It features 8 outlets and 5 ports USB chargers that let you plug in and charge all your essential devices wherever you are. What is more, fireproof material ensures long durability and safety while using.
Efficient Design with Neatly Arranged Sockets and Built-in Power Cord
- Its clean and efficient design means that it is good looking, its high-end outlook marches perfect with your nice home and office use.
- Its neatly arranged sockets cause less clutter, save space efficiently.
- Its built-in 5 Ft. power cord allows connection to a distant wall outlet.
- On / Off switcher that allows users to control power supply without pulling off from wall outlet.
8 AC Outlets and 5 USB Charging Ports for Worry-Free Use
- 8 protected AC outlets supply complete protection with a total power output of 1250W, 1700 joule energy rating provides standard protection for your electronic devices
- 5 USB Charging Ports can easily charge your cellphone along with other USB devices with a max power output of 40W. Its integrated intelligence charging technology enables the charger to deliver the fastest possible charge speed up to 2.4 amps per port.
What is in the box
- 1x ORICO 8 Outlet Surge Protector with USB Charging Ports(Black)
- 1x User Manual
- 1x Service Card
This high-end power strip is your ideal solution for power supply, it offers you fast, convenient and multiple charging ports for devices and electronics
8 AC Outlets,1700 joule Surge Protector Energy supplies complete protection with a total power output of 1250W
5 USB Charging Ports with a MAX power output of 40W; Super charging port detects and delivers the fastest possible charge speed up to 2.4 amps per port
Its built-in 5 Ft. power cord enables connection to a distant wall outlet;On/Off switcher allows users to control power supply without pulling off from wall outlet
What is in the box: 1x ORICO 8 Outlet Surge Protector with USB Super Charger, 1x User Manual, 1x Service Card