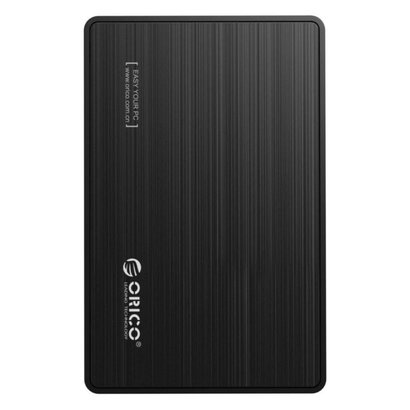 ORICO Tool-Free 2.5 Inch SATA to USB 3.0 External Hard Drive Disk Enclosure, Optimized For SSD, Support UASP Transfer Protocol - Black (2588S3)
OR-2588S3BK
Availability:

Out of stock
Product description
Brand:

ORICO

Article number:

OR-2588S3BK

Availability:

Out of stock
ORICO Tool-Free 2.5 Inch SATA to USB 3.0 External Hard Drive Disk Enclosure, Optimized For SSD, Support UASP Transfer Protocol - Black (2588S3)
SATA to USB3.0 2.5 Inch HDD/SSD Enclosure
- Take advantage of SuperSpeed USB 3.0 to quickly transfer files up to 5 Gbps.
- Connect any 2.5'' Serial SATA-I, SATA-II, SATA-III Hard Drive to your computer through an available USB 3.0 port on your desktop or laptop.
- Using USB3.0 cable to match with SuperSpeed data transfer speed.
Tool-free Installation
- Install without tools and screws
- Plug and Play
- Support hot swapping
Support the UASP Transfer Protocol Optimized for SSD
SuperSpeed USB 3.0 data transfer speed with UASP Transfer Protocol, 70% faster than traditional USB 3.0, the UASP Transfer Protocol is optimized for SSD, can only accelerate read and write speed of SSD hard disk
Universal Compatibility
- Backwards supports with USB 2.0 /1.1 connections
- No system requirements
- No drive needed
What is in the box:
- 1x ORICO 2.5 Inch Enclosure
- 1x 2 Ft. USB3.0 Cable
- 1x 12V6.5A Power Adapter
- 1x User Manual
- 1x Service Card
Support standard 7 & 9.5mm 2.5 inch HDD or SSD via SATA-I, SATA-II, SATA-III interface, standard USB3.0 interfaces on both ends of the cable
Easy tool-free installation, plug and play, support hot swapping
SuperSpeed USB 3.0 data transfer speed with UASP Transfer Protocol, 70% faster than traditional USB 3.0, the UASP Transfer Protocol is optimized for SSD, can only accelerate read and write speed of SSD hard disk
Reverse compatible with USB 2.0 /1.1 connections, no system requirements, no drive needed