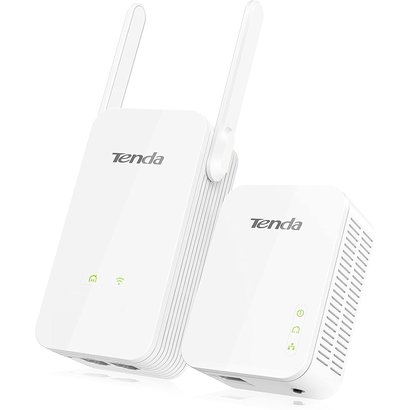 Tenda AV1000 Wi-Fi Powerline Extender KIT (PH5)
TE-PH5
Availability:

In stock (1)
Product description
Brand:

Tenda

UPC:

885397270911

Article number:

TE-PH5

Availability:

In stock (1)

Product Specifications
3 Gigabit port 10/100/1000 Mbps

HomePlug AV2

Powerline AV1000 speed

Wireless : 2.4GHz on 300Mbps

PLC Signal LED

Build-in Powerline Saving

Wi-Fi Timing
Tenda PH5 offers more reliable & faster network in your home
Tenda PH5 Double 1000Mbps provides faster network for your entertainment.

With the new generation Broadcom Powerline chipset and Homeplug AV2 technology, the transmission speed of PH5 can be up to 1000Mbps.

And it's Gigabit Ports is 10 times better than 100M ports which is the real Gigabit network for your entertainment.
Function
Wi-Fi Clone,Easy to use

 

With Wi-Fi cloning technology, Wi-Fi cloning can be finished just by pressing 'WPS' button on router and 'Wi-Fi' botton on PA6.

 

Mutiple Devices Connected at The Same Time

 

Featuring two gigabit ethernet ports, PA6 allows you to connect several devices such as game consoies,IPTVs at the same time. Just plug the ethernet cable into the powerline and away you go!

 

Extend your network in any room using the existing Powerline

 

The PH5 converts existing circuits into a high-speed network without the need for new cables or perforations. The Powerline PH5 kits can be used anywhere with a power outlet and it is easy to get the network expansion and extension of the family and the company.