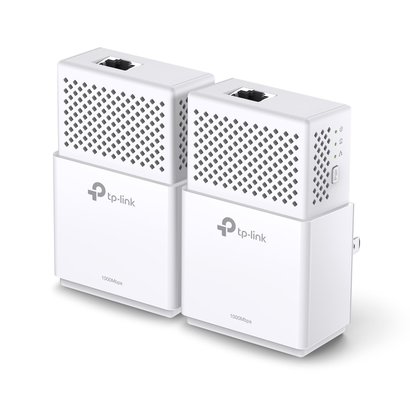 TP-Link AV1000 Gigabit Powerline Starter Kit TL-PA7010 KIT
TP-TLPA7010
Availability:

In stock (3)
Product description
Brand:

TP-Link

UPC:

845973099244

Article number:

TP-TLPA7010

Availability:

In stock (3)

Why Powerline?
Powerline kits turn your home's electrical wiring into a wired network, moving data right through your walls and floors.
The TL-PA7010 KIT comes with two powerline units that set up in minutes, are simple to use and plug into any power outlet to keep wired connections strong where you need them.
Extend Your Network to Any Room
Fast Powerline Speeds
Watch the latest web series, stream your favorite podcast and browse the internet all over powerline. The TL-PA7010 KIT delivers AV1000 powerline speeds for a fast connection anywhere in your home.
Rock-Solid Wired Performance
Directly connect wired devices like smart TVs, gaming consoles and PCs to the gigabit Ethernet port for reliable performance at higher speeds.
Easy to Use by Design
Plug. Pair. Play.
Plug one unit in and connect it to your router, then plug the other unit in anywhere. Press pair to secure the connection with 128-Bit AES encryption.
Modern Design
The kit is designed with ventilation and a sophisticated white finish that blends in to your walls and decor.
Power Savings
When not in use, the kit enters power-saving mode to reduce energy consumption.
Universally Compatible
Connect the powerline kit to any router, access point or Ethernet switch to extend your network to any room.