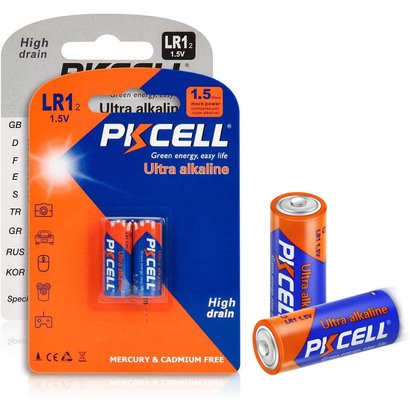 Ultra digital Alkaline Battery 1.5V LR1, Blister Card
PKC-LR1-2PK
Availability:

In stock (1147)
Product description
Brand:

PKCELL

UPC:

6942449512420

Article number:

PKC-LR1-2PK

Availability:

In stock (1147)
Long Lasting Power- With 4-piece LR1 Alkaline Battery pack, PKCELL gives you the best value for batteries at an affordable cost. Long lasting and high performing, these LR1 N Batteries will go the distance for all your electrical needs. Stock up and keep your electronic devices ready to go, never worry about dead-battery problems again.

Power Household Electronics- A performance you can count on, our batteries function as the best household N 1.5V batteries to power your electronics. Best used on everyday applications such as wireless mouse's & keyboards, clocks, flashlights, toys, remote controls, and much more.

Reliable Performance- Even at temperatures as low as -20°C degrees or as high as 60°C degrees, the PKCELL alkaline 1.5V batteries will still operate at optimal performance. Rest assured knowing that PKCELL stands behind the performance of our batteries.

Date Coded 10 year shelf life- PKCELL long lasting LR1 1.5V battery has 10 years shelf life for trustworthy backup energy, so there will be power when needed most. All of PKCELL1.5V batteries have been date coded to guarantee freshness.

Certified safety- Our triple A batteries have been held to the strict requirements of RoHS (Restriction of Hazardous Substances). With a certificate by SGS under the standards of IEC60086, it has passed the all encompassing battery testing from performance, dimensions and environmental factors. WARNING: These are one time use disposable batteries. Please DO NOT recharge these batteries.