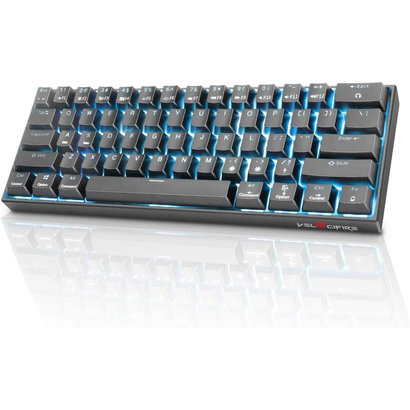 VELOCIFIRE Wireless Bluetooth Mechanical Keyboard, M1 TKL61WS 61-Key 60% Tactile Brown Switch Mini Portable Mechanical Keyboard with Ice Blue Backlit, Compatible with Mac OS and Windows OS(Black)
KB-V61BBLK
Availability:

In stock (2)
Product description
Brand:

Velocifire

Article number:

KB-V61BBLK

Availability:

In stock (2)
DUAL SYSTEM COMPATIBLE: Velocifire TKL61WS 60% keyboard support dual system, compatible with Mac and Windows operation system, no hassle from Windows to Mac, just press Fn+A/S to switch. TKL61WS is one of the few Bluetooth wireless keyboard support dual system.

Durable Brown Switch - Low-noise switches have a tactile bump for feedback with every key-press, offering tactile typing experience. It is slightly QUIETER than Blue Switch but LOUDER than a regular Membrane keyboard. A great Mechanical feeling keyboard for office. If you never used a mechanical keyboard before, please think about whether you can accept its sound first

BLUETOOTH WIRELESS & USB WIRED DUAL CONNECTION: Our 61key mechanical gaming keyboard can connect with Bluetooth 3.0 or type-C USB cable. Connect wirelessly with up to three devices at once and just press Fn+Q/W/E to switch between the device.

60% MINI SIZE: The 61 keys compact portable layout makes it suitable for home, office, and travel. Used the TKL61WS mini keyboard, you will be amazed at how much space you save, and it will be much easier to reach for your mouse. Benefit from its 60% mini size and wireless design, you can take it any where.

MORE FASTER& ACCURATE - The Bluetooth wireless mechanical 60% keyboards are suitable for copywriters, programmers, editors and others who spend many hours typing every day. Type faster with improving accuracy through our mechanical keyboards as customers feedback.