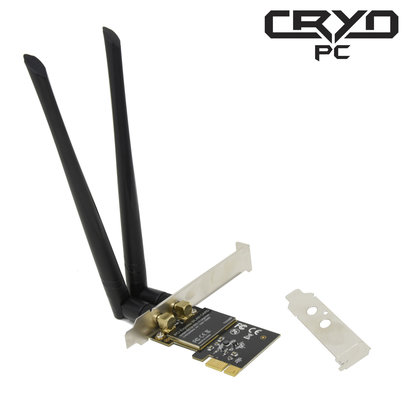 Cryo-PC PCIe 1200M Wifi Card Wireless Dual-Band Gigabit Network Adapter, Realtek 8812
CPC-N45120
Availability:

In stock (151)
Product description
Brand:

Cryo-PC

UPC:

643361451205

Article number:

CPC-N45120

Availability:

In stock (151)
With dual band and faster download, you can complete your massive data transmission in the time of a cup of coffee.

Dual-band AC wireless network card supports signal penetration through the wall.

Dual-band concurrent 1167Mbps high-speed Wi-Fi adopts MIMO architecture in the 5G frequency band,

The product can solve problems of signal blind spots, improves frequency modulation efficiency, and wireless rate reaches 867Mbps.

High-speed, low-latency game playing, large-scale games can also maintain stable network speed transmission, to cope with the problem of delays and stalls.