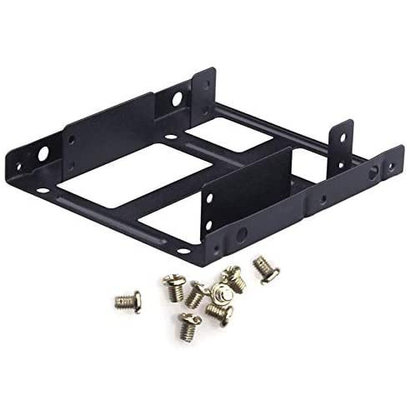 Cryo-PC Dual 2.5" to 3.5" Internal HDD/SSD Adapter Mounting Kit
MK-435252
Availability:

In stock (892)
Product description
Brand:

Cryo-PC

UPC:

643361352526

Article number:

MK-435252

Availability:

In stock (892)
1pc 2.5" to 3.5" Double-Deck Desktop SSD Mounting Bracket, come with 8pcs mounting screws, 4pcs for fixing bracket, 4pcs for fixing SSD.

High Quality Material: Made of black metal, one piece stamping forming with precision mould, special processed surface, scratch resistance, difficult deformation faded.

Special Design: More open-ended exposed hard disk design, improve the heat dissipation area of the hard disk in contact with air, make your hard drive have excellent cooling effect, protect your hard drive to the maximum extent possible.

Double-Deck Bracket: Suitable for most of the brand PC cases in the market. Easily install SSD or mechanical hard drive into your desktop computer to make your system space, performance and painless upgrades.

Compatibility: Compatible with almost all 2.5-inch SSD/HHD with SATA/IDE interface, easy to install without space limitation for flat cable and power cord.
D Adapter Mounting Kit