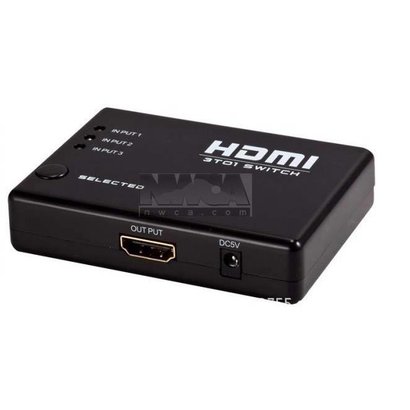 3 Port High Speed HDMI v1.3 Mini Switch 3x1, Intelligent Auto Switch with Remote Control, Full 1080P, Non Powered
HD-23602
Availability:

In stock (43)
Product description
UPC:

831772000017

Article number:

HD-23602

Availability:

In stock (43)
3 Port High Speed HDMI v1.3 Mini Switch 3x1 for PS3 XBOX 360 HDTV STB, Intelligent Auto Switch with Remote Control, Full 1080P
Description:
The 3x1 HDMI mini switcher routes high definition video (in multiple resolutions up to 1080p) and digital audio from any one of the three sources to display unit. Three inputs accommodate the simultaneous connection of up to three high definition video sources, such as satellite systems and HD DVD players. The output sends the high definition audio/video signals to a high definition display. Aside from the manual switching, the switching can also done via the IR remote that is provided with the unit for added convenience. The compact design eliminates the bulk of an HDMI switcher while still having the same functionality.
High-Definition Multimedia Interface (HDMI) Cable connects HDMI devices that have Build-in HDMI ports, like HDTV, PlayStation 3, Upconvertor DVD Player, satellite boxes, LCD Monitor and projectors. HDMI cable can transfer Ture HD Video/Audio signal in one cable.
Features:
No power supply needed
Switch easily between any three HDMI sources
Intelligent auto switch (When one source device is turned on or plugged in, the switch will automatically select this source)
24k gold platted connector
Extends the range of HDMI compliant device by equalizing and re-clocking the HDMI signal
Maintains high resolution video - beautiful, sharp HDTV resolutions up to 1080p, 2k and computer resolutions up to 1920 x 1200 are easily achieved.
Broadcast quality digital video, digital audio, and intercomponent control signals all in one compact, high-performance connection
Supports uncompressed audio/video signals for HDTV, HDTV Receiving Box, PlayStation 3 and new version of XBOX360
Fully HDCP compliant to Provide highest level of signal quality
Supports multiple audio formats, from stereo to multi-channel sound
Perfect for both high-definition video and standard video formats
Shielded for maximum protection from RFI and EMI interference
HDMI v1.3 Transfer rate up to 10 Gbps
30 gauge cable
Support 720P and 1080P True HD Resolution
Discrete IR remote (included)
HDMI pass-through
Pocket Size
Specifications:
Connectors: HDMI Male to Male
Video Amplifier Bandwidth: 140MHz
Input Video Signal: 0.5-1.0 volts p-p
Input DDC Signal: 5 volts p-p (TTL)
Maximum Single Link Range: 1280 x 1024, 1080p
DTV / HDTV: 480i/576i/480p/576p/720p/1080i/1080p
Output Video: HDMI 1.3+HDCP 1.0/1.1/1.2
Power Consumption: 15 Watts (max)
Package:
HDMI mini switch
Remote
IR receiver