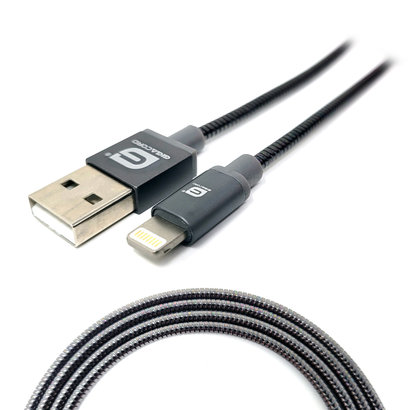 3Ft Gigacord MetalARMOR iPhone/iPad/iPod Lightning 8 pin Charge/Sync Cable w/Strain Relief, Metal Braiding, Ultra Slim Aluminum Connectors (Choose Color)
GC-75823GM
Availability:

In stock (384)
Product description
Brand:

Gigacord

Article number:

GC-75823GM

Availability:

In stock (384)
Lightning Charge & Sync Compatibility: Lightning 8 pin connectivity makes for a variety of compatible Apple devices. The Gigacord MetalARMOR cables ensure a lifetime connection for fast charging and high data syncing capabilities for a variety of Apple devices.
Durable Metal Braiding: Sturdy metal braiding guarantees Gigacord MetalARMOR cables for 1 year enabling over 4000+ bends. The durable metal braiding is also snag and tangle free for peace of mind when storing.
Ultra Slim Aluminum Connectors: Ultra slim connectors fit cases of all types with ease. Thick cases are no match for our MetalARMOR cables! The aluminum construction also provides durability for a solid connection every time.
High-Quality Copper Wiring: High-quality copper wire maximizes signal quality and increases durability. Insulation and a solid PVC outer jacket also provide another layer of protection.
In The Box
-3Ft Gigacord MetalARMOR iPhone/iPad/iPod Lightning 8-pin Charge/Sync Cable w/Strain Relief, Metal Braiding, Ultra Slim Aluminum Connectors
Specifications:
-USB A to Lightning 8 pin Connections
-3FT (1 Meter)Nickel-Plated Steel PlugsSupports up to 480 Mbps
High speed charging & syncing capabilities
Compatible with a variety of Apple devices
3Ft length
Tangle free metal braiding