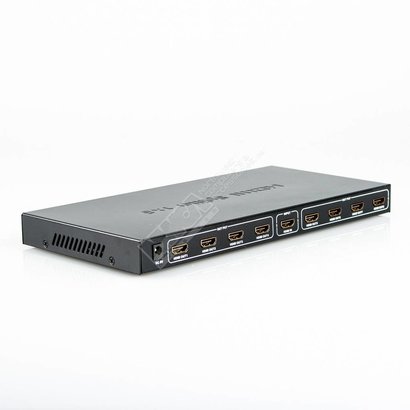 8 Port 1x8 HDMI 3D 1.3 Amplified Powered Splitter Signal Distributor Multiplier Full HD 1080P
HD-23108
Availability:

In stock (1)
Product description
Article number:

HD-23108

Availability:

In stock (1)
1x8 HDMI Powered Splitter
Splits HDMI signal to 8 HDMI Video displays completely, has the ability of buffering and amplifying. Each output can achieves long distance transmission of HDMI signal up to 35 meters.
Connects 8 HDMI displays at the same time to the same video source
Maintains 480p, 576p, 720p, 1080i and 1080p resolutions.
Offers solutions for HDTV retail and show site, HDTV, STB, DVD and projector factory, noise, space and security concerns, data center control, information distribution, conference room presentation, school, and corporate training environments
Maintains HDMI video/digital
Fully HDMI 1.3 compliant
HDMI or DVI to HDMI cables used for inputs and outputs
Plug-and-play
Specifications:
Resolution:Support 480i 480p 720p 1080i 1080p(1920*1200)
HDMI version: HDMI 1.3b 3D
Bandwidth: 340 MHz (10.2 Gbps)
Support HDCP
Easy operation,support hot plug
Power Supply: INPUT 100-240V AC OUTPUT 5V/2A DC
Working Voltage: 5.0V
Power: =6.5W
Package includes:
1*HDMI Splitter
1*5V DC Power Adaptor
1*User Manual