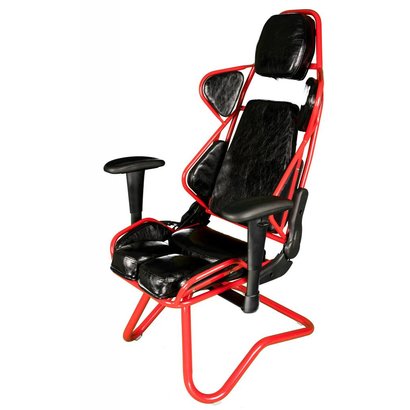 Black and Red High Back Ergonomic Racing Style Gaming Chair with Sled Style Stand
GC-38582
Availability:

In stock (2)
Product description
Brand:

Cryo-PC

Article number:

GC-38582

Availability:

In stock (2)
Features:

- Adjustable Backrest:
Featuring an angle-adjustable backrest to help adjust the sitting position throughout the course of the working experience (up to 180 degrees).

- Adjustable Armrests:
Armrests are designed with are comfort in mind. The armrest adjustment allows for a range of up and down positions.

- Comfort Padding:
The padding is made from high density foam, which adds great support and seat comfort. The open-cell breathing structure makes sure that heat won't get trapped inside. This gives great comfort, even when seated for an extended period of time.


Specs:

- Dimensions:
  - Back: 22" x 33"
  - Seat: 20.5" x 20"
  - Adjustable Height: 18" - 21"
  - Weight: 55lb
  - Max Weight Supported: 250lb