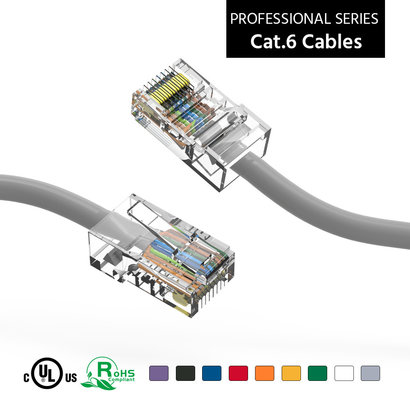 Cat6 CMR Non-Boot Patch Cable Gray (Choose Length)
NC-58425
Availability:

In stock (99)
Product description
Article number:

NC-58425

Availability:

In stock (99)
Category 6 Non Booted Ethernet patch cables are designed for IT and data center professionals who prefer cables without boots that protect the plug retaining clips, allowing easier connections and more room for air ventilation.

Each comes UL verified and meets TIA/EIA-568-C.2 Cat.6 standards.

Our Category 6 cables are made of four twisted 24AWG pure copper wire pairs cable with a PVC jacket, and terminated with RJ45 plug with 50 micron gold plated contacts.
Our Category 6 cables are offered in a variety of lengths and colors for your needs.
Conductor: 4-pair UTP (Unshielded Twisted Pair) 24 AWG stranded bare copper
Connectors: RJ45 plug with 50 micron gold plating contacts
Jacket: PVC
Certification: Verified compliant with TIA/EIA standard by UL and ETL; RoHS Compliant
Wiring: T568B
Part Number: Length
NC-58425: 25ft.
NC-58435: 35ft.
NC-58440: 40ft.
NC-58450: 50ft.