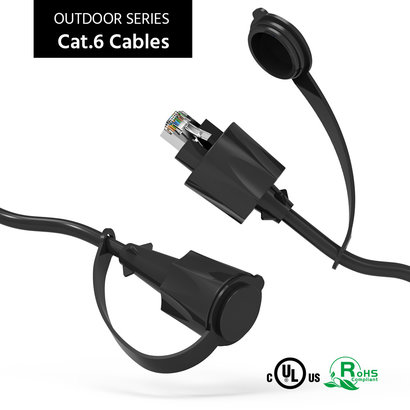 Cat.6 SSTP Industrial Outdoor Patch Cable w/Dust Cap Black (Choose Length)
NC-56503WO
Availability:

In stock (5)
Product description
Article number:

NC-56503WO

Availability:

In stock (5)
Cat.6 SSTP Industrial Outdoor Double Shielded Ethernet Patch Cable w/Dust Cap, Black
Cat.6 SSTP outdoor patch cable for harsh industrial environment such as factory automation or outdoor where Ethernet cable needs to be run through wet or not-clean locations. It is also ideal for residential outdoor network installation such as patio. Both RJ45 plugs have water tight caps that connect to panel mount watertight RJ45 jacks.This cable's water resistant caps allow the cable to be run though environments with both water and dirt. This patch cable features a 26AWG pure copper stranded wire and is filled with a CMX rated gel. RoHS compliant.
Cat.6 4 pair outdoor SSTP (Double Shielded) Ethernet cable
Color: Black
26AWG pure copper stranded wire
CMX rated gel filled outdoor cable
Shield Type: foil+braid
IP67 rated water and dust protection
RoHS compliant
Part Number: Length
NC-56503WO: 3ft.
NC-56506WO: 6ft.
NC-56510WO: 10ft.
NC-56515WO: 15ft.
NC-56525WO: 25ft.
NC-56550WO: 50ft.
NC-56575WO: 75ft.
NC-56591WO: 100ft.
NC-56593WO: 125ft.
NC-56594WO: 150ft.
NC-56597WO: 175ft.
NC-56599WO: 200ft.