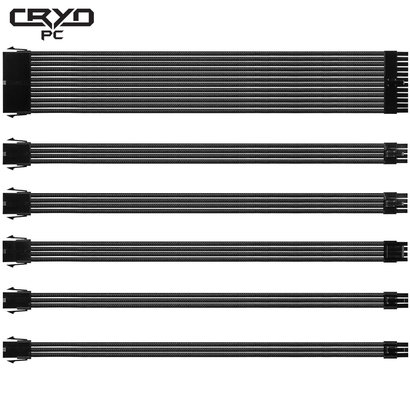 Cryo-PC ATX PSU 24 Pin 6pc Cable Mod Sleeved Extension cable 18AWG ATX/EPS/8-pin PCI-E/6-pin PCI-E kit, Black
PC-11705
Availability:

In stock (73)
Product description
Brand:

Cryo-PC

UPC:

643361117057

Article number:

PC-11705

Availability:

In stock (73)
UL certified: Premium sleeved psu cable extensions, fully shielded and multi-layered with high quality UL certified 18 AWG conductor.

Contains: 1 x 24 Pin ATX Extension Cable, 1 x 4 + 4 Pin EPS Cable, 2 x 8 Pin PCI-e Cable, 2x 6 Pin PCI-e Cable, Cable Combs

With three-layered design: Outer ultra-density weaving, the middle insulating layer with acid and alkali-resistance, fuel resistance, damp proof features, inner conductor is UL certified

The new individually sleeved cables are heat-shrink free to ensure high-quality cable assembly and support for high currents in order to achieve superior performance and stability.

PC cable combs ensure cable separation and increased airflow while maintaining an organized look inside your PC. Keep your cables in a good management.