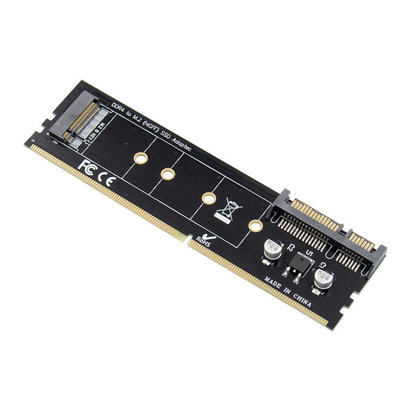 Cryo-PC DDR4 to M.2 B Key (NGFF) SSD RAM Adapter card
CPC-98521
Availability:

In stock (100)
Product description
Brand:

Cryo-PC

UPC:

643361985212

Article number:

CPC-98521

Availability:

In stock (100)
Overview
▪Adopt DDR2 interface design, simple and firm installation.
▪External power supply, more power, excellent and stable performance.
▪The power supply uses 2 imported large solid capacitors to make the power supply more stable.
▪The copper studs holding the SSD are removable for easy connection to various SSDs.
▪Gold-plated interface with better abrasion resistance and higher electrical conductivity.
FEATURE
▪Supports DDR2 desktop motherboards
▪M.2 SSD to SATA3 adapter riser card
▪DDR2 memory slot M.2 SSD to SATA expansion board
▪SATA 15-Pin power + SATA 7-Pin data port connected to the motherboard
▪Support M.2 NGFF SSDs of 2230, 2242, 2260, 2280 size
▪Only M.2 SATA protocol key B SSD is supported, M.2 slot 3 PCIe-based M Key SSD is not supported
▪Allow users to convert M.2 B-key SATA bus SSD to SATA3 through DDR2 memory slot
* No drivers required, support all systems