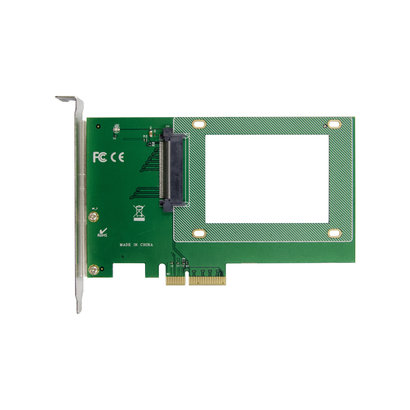 Cryo-PC PCI-E 2-U.2 NVMe SFF8639 2.5'' Extended Card
CPC-98580
Availability:

In stock (18)
Product description
Brand:

Cryo-PC

UPC:

643361985809

Article number:

CPC-98580

Availability:

In stock (18)
This PCIe x4 U.2 SFF8639 2.5-inch NVMe SSD Adapter is connects directly to the motherboard, It has support with ultra-fast PCI Express V3.0 X4 lanes transmit bandwidth up to 32GT/S, and it can be support with U.2 SFF8639 2.5-inch SSD drive size. By this adapter can be improved system speed ,and improve the efficiency of office and entertainment.
Specification
Compliant with PCI Express specification Revision v3.0
Backwards compatible with PCIE V2.0 and V1.0 mainboards
PCI Express interface: x4
Support for one U.2 SSD Drive
The U.2 SFF8639 SSD gets its power supply form the motherboard PCIe BUS slot 3.3v
Industrial operating temperature range:-40~85°C
Support operating system:Windows 10, Windows 8, Windows 8.1, Windows Server 2012 R2, Linux, Fedora, SUSE, Ubuntu, Red hat native drivers support PCIe NVMe
No driver is required because the driver is transparent to the operating system, need to support NVMe protocol
Package content
1 x PCIe x4 U.2 SFF8639 2.5-inch SSD Adapter
System Requirements
WindowsR10,WindowsR 8,WindowsR1, Windows RServer 2012 R2,Linux 32bit or 64 bit
One available PCI-Express x16 slot
Hardware installation
Please first installed the U2 SFF8639 SSD into the NVMe adapter, then follow these steps:
1.Turn Off the power to your computer.
Unplug the power cord and remove your computer's cover.
To install the card, carefully align the card's bus connector with the selected PCIe slot on the motherboard. Push the board down firmly.
Replace the slot bracket's holding screw to secure the card.
Replace the computer cover and reconnect the power cord.
More information and settings please refer to the User Guides or you can contact us.