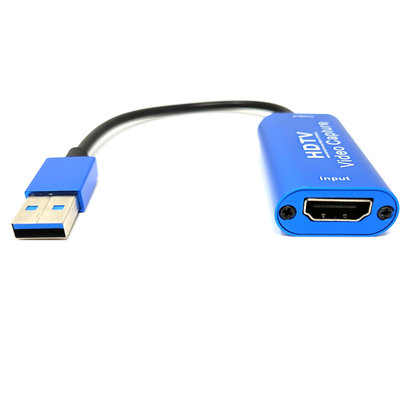 Cryo-PC USB 3.0 HDMI 4K 30hz Video Capture Dongle
CPC-41880
Availability:

In stock (17)
Product description
Brand:

Cryo-PC

UPC:

321642558774

Article number:

CPC-41880

Availability:

In stock (17)
【HIGH DEFINITION 1080P 60fps】Our video HDMI capture card supports input max resolution 3840×2160@30Hz, output max resolution 1920×1080@60Hz and record high definition 60 fps videos directly in your hard drive with no delay.

【ULTRA-LOW LATENCY SCREEN SHARE】Superior low latency technology. HDMI loop out port makes it no delay when you are playing game live.With HDMI signal loop out function,you can enjoy the fun with your friends while capturing video,and makes the video capture card easier for you to have real-time streaming for Twitch, for Youtube, for OBS, for Potplayer and for VLC,Real-time Preview, record videos directly to the hard disk, output no compression without delay.

【USB HDMI CAPTURE NO NEED DRIVER】No need to install any driver , it is very easy to use. The USB video capture card features built-in functions of the current software to get a seamless experience.Without external power supply, compact and portable, easy to carry. The game capture card is suitable for low-latency game, can meet the needs of the meeting. The small size HDMI capture card directly leads the USB cable to avoid unnecessary connect.

【WIDELY USE】The Video capture card can capture video and audio simultaneously and transmit audio and video signals to computers or smartphones for preview and storage. Thus This HDMI capture card is suitable for high definition acquisition, live broadcasts, conference rooms, video recording, teaching recording, medical imaging, game entertainment live broadcasting, etc

【MINI CAPTURE CARD WIDE COMPATIBLE】This video HDMI capture card easily connect your DSLR,camcorder,or action Cam to your PC or Mac,Compatible with Windows,MAC and Linux.The USB3.0 high-speed transmission port makes it easier for you to have real-time streaming for Twitch,for Youtube,for OBS,for Potplayer and for VLC.The HDMI to USB Capture Card compatible with HDMI signal input such as camera,conference camera,computer,mobile phone,set-top box,PS4, XBOX game console,etc.