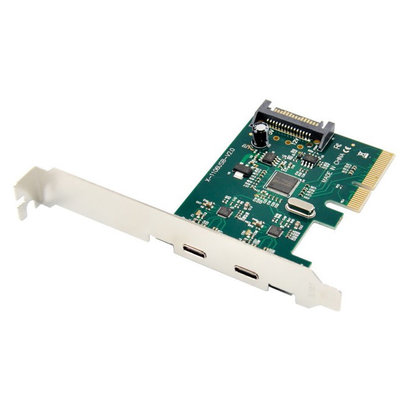 Cryo-PC USB 3.1 USB-C Type-C Dual 2-Port PCIe Controller Card
CPC-98312
Availability:

In stock (91)
Product description
Brand:

Cryo-PC

UPC:

643361983126

Article number:

CPC-98312

Availability:

In stock (91)
ASM1142 USB3.1 Type C + A expansion card converts the computer's PCIe high-speed data transfer interface into USB 3.1 Type-A and USB 3.1 USB-C high-speed data transfer interface, and is backward compatible with USB 3.0, USB 2.0 and The USB 1.1 device, with a maximum transfer speed of 10 Gbps, supports the hot-swap function of USB devices and is designed to provide faster and higher speeds for personal computers, consumer electronics and communication devices.

FEATURES
▪Compliant with Universal Serial Bus 3.1 specification Gen2.
▪Compliant with xHCI (eXtensible Host Controller Interface) specifications Revision 1.1.
▪Supports simultaneous operation of multiple USB 3.1, 3.0, USB 2.0 and USB 1.1 devices
▪Supports USB data transfer rate of 10G/5G/480/12/1.5 Mbps.
▪Expands dual external USB3.1 Super-Speed plus Type-A ports on the system.
▪Each USB port supplies maximum +5VDC / 900mA power output to USB device.
▪Built-in over current protection on each USB port.
▪Support device remote wakeup function from USB keyboard or mouse.
▪Hot-swapping feature allows connect/disconnect device without powering down the system.