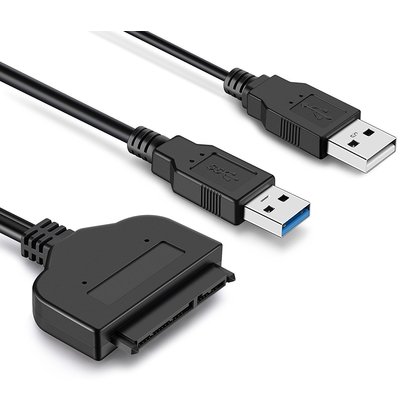 Dual USB 3.0 to SATA Adapter Cable Up to 5Gbps with USB 2.0 Power Cable support Big Capacity SSD and External Laptop 22 Pin 2.5" Hard Drive
US-40315
Availability:

In stock (738)
Product description
Article number:

US-40315

Availability:

In stock (738)
Dual USB 3.0 to SATA Adapter Cable Up to 5Gbps with USB 2.0 Power Cable support Big Capacity SSD and External Laptop 22 Pin 2.5" HD and DVD Driver SATA 3 Converter. KS70006-A24 G13532-001
This super speed USB3.0 to SATA 22 pin cable allows to Hot-Swapping, plug and play and supports max transfer speed 5Gbps, high speed 480 Mbps and full speed 12 Mbps. With serial ATA technology, the transfer speed is much faster with less energy consumption of the system.
Dual Durable Cables
Two superior construction and high quality materials data cables allows repeated usage and exchange use
Backward Compatibility
USB to SATA adapter is compatible with USB3.0 interface and also suitable for previous version USB1.1 and USB2.0 port so if your computer is not USB3.0 temporarily which also can be used.
Widely Application
This USB3.0 to SATA 22pin convertor adapter supports 2.5 "SATA HDD and 2.5 " SSD. The SATA transfer speed is SATA II (3GBPS) SATA I (1.5GBPS).The actual transmission rate depends on the capability of the connected HDD / SSD which can up to 3Gbps.
Package Included
1 x Dual USB 3.0 to SATA 7+15 Pin Adapter Cable