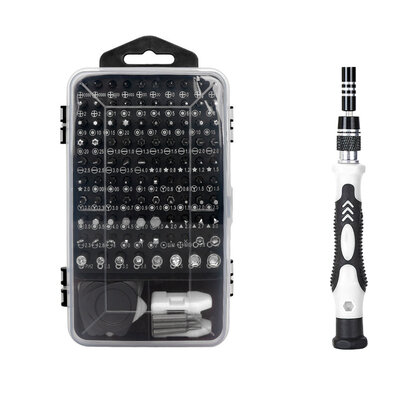 Gigacord 122pcs in 1 Screwdriver set
GC-11505
Availability:

In stock (59)
Product description
Brand:

Gigacord

Article number:

GC-11505

Availability:

In stock (59)
【122 in 1 Screwdriver set】 Our precision screwdriver set is a must have for any mobile phone or other electronics technician and is usually used during common repair for all electronics appliances, such as televisions, air conditioners, fans, refrigerators, cars, etc. It is also a necessity in the disassembly and maintenance of mobile phones, digital cameras, watches, glasses, laptops, tablets, and game consoles.

【With the magnetic screw memory mat】 repair tool kit comes with a magnetic screw memory mat for disassembly and assembly of screws in a convenient and efficient way. Do not worry about the loss or improper installation of small and precise screws.

【Replaceable magnetic precision bits】 122 in 1 Precision screwdriver set includes 101 types of screwdriver bits, 1 handle, 1 extension bar, 1 flexible extension shaft, 1 hexagonal sleeve, 1 antistatic tweezers, 3 lever levers plastic and 8 triangular lever tools, 1 screw memory mat, 1 magnetizer / demagnetizer, 1 SIM card pin, 1 suction cup. All bits are magnetic and easily connect with the handle.

Professional material 】 The chrome head has a hardness of 55-60HRC. The screwdriver head is magnetic, with a guarantee of good quality and convenient use.

【Efficient Service】We provide high quality products and satisfying our customers. If there was any problem with 122pcs precision magnetic screwdriver set, feel free to contact us any time through amazon. We will solve your problem within 24h.