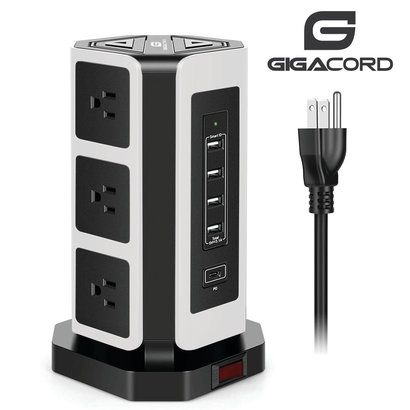 Gigacord 9-Outlet, 4 USB + USB-C 900j Surge Power Strip, 6.5ft Cord, White and Black
GC-S90405
Availability:

In stock (94)
Product description
Brand:

Gigacord

UPC:

643361904053

Article number:

GC-S90405

Availability:

In stock (94)
Functional and Plenty of Room. The vertical power strips are on each side of the central column to give plenty of space for those bulkier plugs that would cover the next outlet on the old style flat universal socket and having 5 USB makes this multi plug extension cord much more useful. Perfect for kitchen table, RV, college dorms, living room, bed room, office and so on.

Charing Station with USB C Fast Charging: 1 USB C 18W PD port offers high-speed charge to phones & tablets, 4 USB A charger 3.1A MAX Per port(Total is 3.1A) that can give your USB devices a fast charging! This power strip support:1000W ~ 110V / 2400W ~ 240V,it does automatically shut off if the wattage through it goes over 2400 watts.

Compact Surge Protector Tower with 6.5 Foot Power Cord: It is a smaller profile surge power strip and has a much better aesthetic appeal. Great spacing allows you can fit all 9 cords comfortably unlike traditional power strips where take up pace. Everything fits and the main cord is 10ft long enough to put the outlet socket where you want.

Multiple Safety Protections: Our multi plug socket are UL, FCC, RoHS, CE certified. 100% copper core cable and the power strip is made of ABS + PC fireproof material, the highest level flame-retardant material. With the overload protection, surge protector, over current protection, short-circuit protection, over-voltage protection, it will give your devices a good protection.

9 Outlet 900 joules Outlets
4 USB Ports (5V 2.4A)
1 USB Type-C 18W
6.5 ft 14AWG power cord with flat plug
110-125V Rated Voltage
15A Rating
Fire Retardant