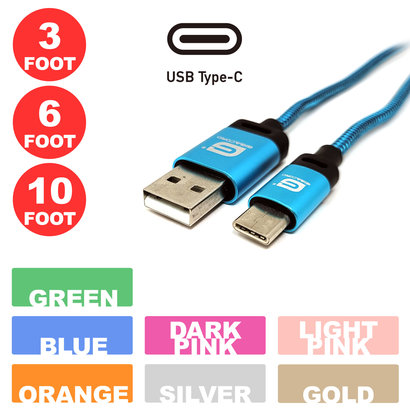 Gigacord BlackARMOR2 USB-C Type-C 24-pin Charge/Sync Cable w/Strain Relief, Nylon Braiding, Anodized Aluminum Connectors, Lifetime Warranty
GC-31310BL
Availability:

In stock (396)
Product description
Brand:

Gigacord

Article number:

GC-31310BL

Availability:

In stock (396)
Type-C Charge & Sync Compatibility: USB Type-C connectivity makes for a variety of compatible devices such as MacBook, Chromebook Pixel, Galaxy Note 7, Note 20, S20, Samsung Galaxy S8, Nokia N1 Tablet, OnePlus 2, Nexus 5X, Nexus 6P, Xiaomi 5, LG G5, Samsung Galaxy TabPro S, HTC 10 and more! The Gigacord BlackARMOR2 cables ensure a lifetime connection for fast charging and high speed data syncing capabilities for a variety of Type-C enabled devices.
Durable Nylon Braiding: Sturdy nylon snakeskin braiding guarantees Gigacord BlackARMOR2 cables for life enabling over 4000+ bends. The durable nylon braiding is also snag and tangle free for peace of mind when storing.
Anodized Aluminum Connectors: These heavy-duty connectors will withstand anything and everything you throw at them! and will fit most cases with ease. The aluminum construction also provides durability for a solid connection every time.
High-Quality Copper Wiring: High-quality copper wire maximizes signal quality and increases durability. Insulation and a solid PVC outer jacket also provide another layer of protection.
In The Box
-Gigacord BlackARMOR2 Samsung USB Type-C 24-pin Charge/Sync Cable w/Strain Relief, Nylon Braiding, Anodized Aluminum Connectors
-Lifetime Warranty through NWCA
Specifications:
-USB A to USB Type-C 24-pin Connections
-Nickel-Plated Steel Plugs
-Supports up to 480 Mbps
High speed charging & syncing capabilities
Compatible with a variety of Type-C enabled devices
Tangle free nylon braiding
Lifetime Warranty
Part Number: Length
GC-31303: 3ft.
GC-31306: 6ft.
GC-31310: 10ft.