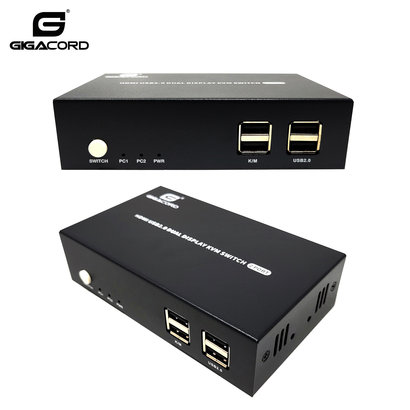 Gigacord HDMI KVM Switch Dual Monitor 2 Port,KVM Switch 2 Monitors 2 Computers 4K@60Hz,USB 2.0+USB 1.1,Dual Monitor KVM Switch with HDMI2.0,HDCP2.2, KVM Switch with 4 HDMI and 2 USB Cables,Hotkey Switch
GC-11612
Availability:

In stock (17)
Product description
Brand:

Gigacord

UPC:

643361116128

Article number:

GC-11612

Availability:

In stock (17)
【KVM Switch HDMI 2 Monitors 2 Computers】 The KVM Switch dual monitor, a set of keyboard and mouse to control 2 computers and to share 2 monitors .(Friendly Reminder: When switching from one signal source to controlling another signal source, the signal source needs to re-identify the information of the display. After switching, the position of the window where the original signal source displays information will move to a certain extent. This is a normal phenomenon.)

【KVM Switch Dual Monitor Ultra HD 4K @ 60 Hz】 The Dual Monitor KVM Switch HDMI supports a maximum of 4K @ 60 Hz (3840 x 2160) YUV 4: 4: 4. No delay in image transmission. Ultra HD, the transmission picture quality is very clear. Every detail can be clearly displayed. Note: The maximum supported refresh rate is 60 Hz. The refresh rate of 120 Hz / 144 Hz is not supported.

【USB2.0 & HDMI2.0 & HDCP2.2】 KVM Switch supports HDMI2.0, transfer rate 18 Gbit / s.HDCP2.2 standards. This KVM Switches has 4 USB2.0 ports , You can share U disk, scanner, printer, webcam, etc. Make your work more convenient.

【Button Switch】The 2 monitor KVM switch supports button switching , and it only takes 5-7 seconds to complete the switch, which is convenient and fast. This KVM Switch has EDID adaptive system. It can automatically detect and adjust various display devices, and also support many types of input devices or signal sources, such as PC, laptop, TV box , etc.

【After-sales service】We have good customer service, if you have any questions about the product, please feel free to contact us, we will be ready to provide you with service and provide you with solutions.