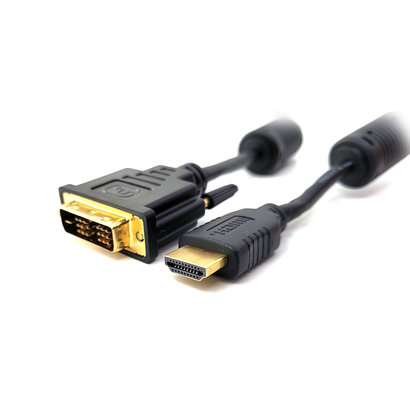 HDMI Male to DVI-D Single Link Male Cable, Black (Choose Length)
HD-HD14010
Availability:

In stock (474)
Product description
Brand:

Gigacord

UPC:

643361140109

Article number:

HD-HD14010

Availability:

In stock (474)
HDMI Male to DVI-D Single Link Male Cable, Black
* Connects HDMI devices to DVI devices
* Gold plated plugs
* Plug protection cap
* Resolution up to 1080p
* HDMI spec : V1.4
* RoHS compliant
All our HDMI cables and devices are purchased from manufacturers that are certified by hdmi.org.
Enables DVI devices to connect to HDMI devices and vice versa (Bi Directional)
Ideal for connecting PC's, Laptops, Satellite set-top boxes, Blu Ray DVD players, Projectors, LCDs and Plasma HDTVs
Supports resolutions up to 1920x1200 and 1080p
Lifetime Warranty
Part Number: Length
HD-HD14003: 3ft.
HD-HD14006: 6ft.
HD-HD14010: 10ft.
HD-HD14015: 15ft.
HD-HD14020: 20ft.
HD-HD14025: 25ft.
HD-HD14030: 30ft.