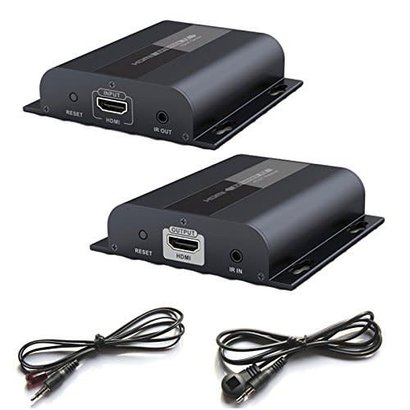 LKV383 120M 1080P Lenkeng Network HDMI Extender Receiver and Transmitter Over Cat6 cable-HDBitT Extender TX/RX Wireless HDbitT HDMI Extender Supporting IR Signal Transmission
HD-LKV383
Availability:

In stock (10)
Product description
Brand:

Lenkeng

Article number:

HD-LKV383

Availability:

In stock (10)
LKV383 HDbitT HDMI Extender 120m over single CAT5/6
Overview:
LKV383 HDbitT HDMI Extender deliver Full HD 1080P HDMI signal up to 150m, it supports extend and split by network devices, compatiable with existing network, and intellagent auto adjustment to match cable length, IR singnal transmission for control the source device.
Specification:
1. HDMI: HDMI 1.3 Version, compliant with HDCP
2. Resolution: 480i@60HZ, 480P@60HZ, 576i@50HZ, 576P@60HZ, 720P@50/60HZ, 1080i@50/60HZ, 1080P/50/60HZ
3. 100m hdmi extender over CAT5e cable:
- CAT5 cable: max. 100 meters
- CAT5e cable: max. 120 meters
- CAT6 cable: max. 150 meters
- This distance is also compliant for connection by switch/router for distribution.
4. Cable runs can be extended another 120m by adding a Gigabit Ethernet switch
5. Maximum 3 layers of Ethernet switches could be passed through
6. Uses off-the-shelf gigabit IP switches for extension and distribution; and the switch/router can be used to log onto the internet at the same time
7. Follow up standard IEEE-568B protocol
8. IR signal: Supports 20-60KHz IR devices
9. Working temperature: 0-60 degree centigrade
10. Power consumption: TX:3.5W; RX:3W
11. Power Supply: DC 5V1A
12. Dimensions (L x W x H): 96.8x 94 x 23.7(mm)
Note:
1. This extender requires sender and receiver to work at the same time.
2. Do not mix up the HDMI to LAN sender and LAN to HDMI receiver, and the IR blaster and IR receiver.
3. Do not plug-in/out the cables ,when it is in using.
4. Use DC5V power supply only. Make sure specification matched if using adapters not supplied by factory.
Package Contents:
* 1 X E-More LKV383 HDbitT HDMI Extender Sender
* 1 X HDbitT HDMI Extender Receiver
* 1 X IR blaster extension cable
* 1 X IR Receiver extension cable
* 2 X 5V DC Power Supply adapter
* 1 X User Manual

Up to 150m by single CAT6 cable. No influence to the internet when it is connected to the same switch.
Supports peer to peer, one-to-many and many to many connection bypass network switch.
High compatibility with all kinds of RJ45 cables regardless of the cable quality.
Wideband IR return signal, compatible with 99.999% remote controls.
HDbitT high-definition network transmission code, the minumum loss of tranmssion, picture quality is 10% better than the likes.