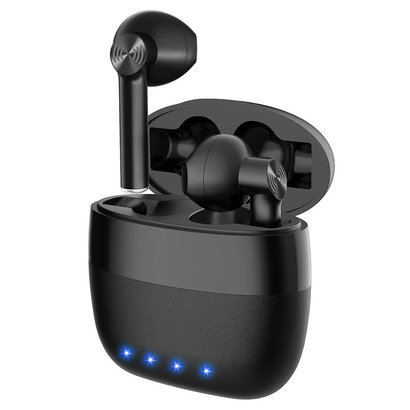 M35 Bluetooth Waterproof Earbuds, 30mAh, JL Chip, 3-4 hours playtime
GC-M35BK
Availability:

In stock (88)
Product description
Brand:

Gigacord

UPC:

000000000352

Article number:

GC-M35BK

Availability:

In stock (88)
TWS Wireless Bluetooth Headset 5.0 Stereo Earphones Touch Control M35 Earbuds with Microphone for iPhone Xiaomi Huawei Samsung *BLACK*

Connecting with Bluetooth :
step 1: Open the upper cover of the charging case and take out the earbuds, light flashes and blue, the earbuds turned on
Step 2: after 1s, you will hear `` DI '' and light flashes only blue on both earbuds, now the earbuds automatic paired each other
Step 3: Open your smartphone or other Bluetooth device, simply open up the Bluetooth menu in your devicce and search for TWS, as soon as it appears clicck on it and the earbuds will be paired with your device automatically .once it's connected, the light will be off
Step 4: Enjoy music
2 x Bluetooth Headphones(left and right earphones),
1 x Charging box  and package box! ! !