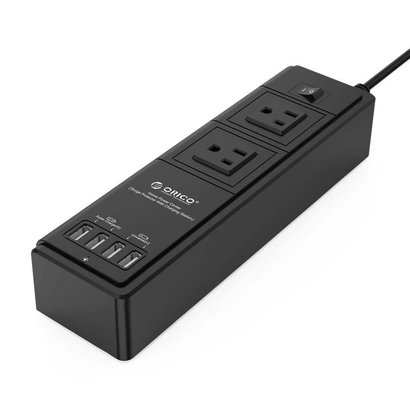 ORICO 2 Outlet Surge Protector Power Strip with 35W 4 USB Charger Ports, Black
OR-HPC2A4UUSBK
Availability:

In stock (20)
Same day shipping on orders before 3:00 PM PST Mon-Fri

Real time inventory!
Product description
Brand:

ORICO

EAN:

6954301126751

Article number:

OR-HPC2A4UUSBK

Availability:

In stock (20)
ORICO 2 Outlet Surge Protector Power Strip with 35W 4 USB Charger Port For iPhone 6s / 6 / 6 plus, iPad Air 2 / mini 3, Samsung Galaxy S6 / S6 Edge / Note 5, HTC M9, Nexus and More
Smart Interactive
With the development of society,we have more and more power demand.Voltage fluctuations, surges and spikes can damage your computer and peripherals and degrade overall performance.ORICO HPC-2A4U Advanced Surge Protector is a simple surge protector that fits into a grounded outlet. It offers economical surge protection for PCs, peripheral devices and all electronics. It provides 2 AC outlets and 4 USB Charger Port, including one outlet that accommodates a bulky transformer without blocking other outlets. A 4.9-ft. cord enables connection to a distant wall outlet,offering valuable surge protection for your electronics.

Addition 2x 5V 2.4A Smart Super Charging Port based on Smart USB Charging Controller will Detect Attached Devices and Self-Adjusted to Right Status,Avoid any Compatibility Issue and Supply Reliable Power for any High Power Required iPad,Tablets or Cell Phones.2x 5V 1A Universal charging port make the soild power for Iphone and the other Android devices.

Compatibility
-2 Outlet Suit for US Plug ,4 Powered USB Ports (6.8 AMP Combined) for Tablet and Cell phone
-Advanced Power Filtration for optimal performance
-US Plug (standard)
What's in the Box
1x ORICO HPC-2A4U
1x US 4.9Ft Cord
1x User Manual
1x Warranty Card
2xOutlets & 4xUSB Charge Port One Step to Guarantee the Adequacy of System Capacity
2x5V 2.4A Super Charging Port and 2x 5V 1A Offer Convenient One-source Charging for Your iPad iPhone SamSung Tablet Galaxy ,etc
Ideal Solution for Small Home Appliances, General Household Electronics, Entry-level Computers, Printers, and ADSL Modems
2 Outlets With Lightningproof and Surge Protector Function Perfect for Your Home Office or Professional Workstation
The Package include:1 x ORICO HPC-2A4U, 1 x US 4.9Ft Cord, 1 x User Manual, 1 x Warranty Card