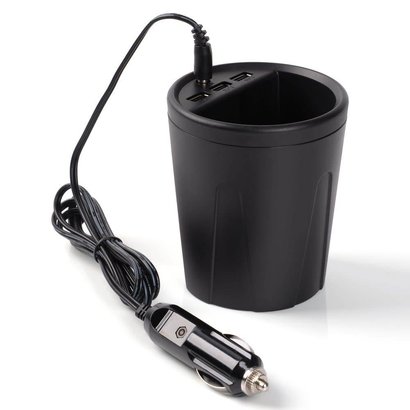 ORICO 36W 3-Port USB Car Charger with Cup Holder Function for iPhone, iPad Air 2, Samsung S6 / S6 Edge, Nexus, HTC M9, Motorola, Nokia and More - Black
OR-UCHC3BK
Availability:

In stock (24)
Product description
Brand:

ORICO

UPC:

6954301129363

Article number:

OR-UCHC3BK

Availability:

In stock (24)
ORICO 36W 3-Port USB Car Auto Charger with Cup Holder Function for iPhone, iPad Air 2, Samsung S6 / S6 Edge, Nexus, HTC M9, Motorola, Nokia and More -Black
Plug and Charge When connecting ORICO 3 port car charger into your vehicle's cigarette lighter socket, 3 ports of super charger are at your service. It allows for charging three devices at the same time, keep portable devices powered up and ready to go.
Cup Holder while Charging
- In addition, unlike ordinary car charger, this gadget has been designed into a cup shape, which is capable to hold your phone while charging, fully free your hands.
- Cup holder fits smart phones that has a slimmer size than iPhone 5S (included, 5.8 cm in width).
High Charging Efficiency
- 3 Super Charging Ports will detect attached devices and self-adjusted to a right status. Avoiding any compatibility Issue and supply reliable power for High Power Required iPad, tablets or Cell Phones from Apple, Samsung, Sony, HTC etc. Attach Devices to Super Charging Ports when any Compatibility Issue happens.
- When working at full capacity, it provides a maximum power output of 36W
- 12V input only

ORICO Think for Car Owners
Compact dimension and cup-shaped design fits nicely into tight spaces and plugs into virtually any vehicle's standard port, allows for easy carrying, so you can make sure your digital devices are always charged.

Compatibility
The charger is suitable for a wide range of devices: iPhones, iPads, most smartphones, tablet PCs, mini speakers, MP3/MP4 players, GPS navigation devices, handheld consoles, and other digital devices with 5V input.

What is in the box
- 1x ORICO 3 Port Car Charger (Black)
- 1x User Manual
- 1x Service Card Please
Note: Not compatible with DC 24V cars, 12V only.

Keep portable devices powered up and ready to go with this 3 port USB car charger, allows for charging three devices at the same time, it's perfect for you or for sharing the charge time with a friend
Cup holder fits smart phones that has a slimmer size than iPhone 5S (included, 5.8 cm in width)
3 ports of Super Charger provide up to 2.4 Amp current level per port, with a maximum power output of 36W
Compact dimension and cup-shaped design fits nicely into the dashboard and firmly into the actual power socket, allows for easy carrying; Compatible with almost all USB devices with 12V input only