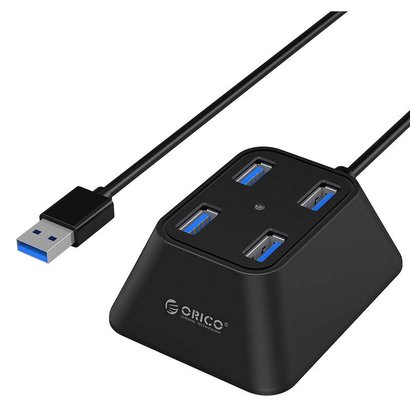 ORICO 4 Port USB3.0 Ultra-Mini HUB (DF4U-U3)
OR-DF4UU305BK
Availability:

In stock (15)
Product description
Brand:

ORICO

UPC:

6954301163909

Article number:

OR-DF4UU305BK

Availability:

In stock (15)
ORICO 4 Port USB3.0 Ultra-Mini HUB (DF4U-U3)

Small but Smart
ORICO ultra mini USB 3.0 hub built in with a 3rd-gen VL812 USB 3.0 controller which provides an easy and reliable connection with a transfer speed of up to 5 Gbps, 10x greater than USB 2.0 that allows users to add four USB 3.0 ports for your computer in seconds. ultra slim size and integrated 10 inch USB 3.0 cable fit with any laptop, notebook, Ultrabook, Macbook, tablet and desktop.
Installation in Ease
ORICO USB hub is bus powered, no additional power adapter needed. Plug & play installation means an easy way for carrying or travelling.
Compatibility
ORICO USB 3.0 hub supports USB 2.0 and USB 1.0 connections, so it is compatible with almost every portable devices, such as digital cameras, iPods and iPhones, all kinds of card readers, USB speakers, and more. Supported systems include Windows XP, Vista, 7, 8, 8.1,10, Mac OS and Linux.
What's in the box
1x ORICO ultra mini USB 3.0 4 ports hub
1x User Manual
1x Service Card
SuperSpeed USB3.0 - Data transfer speeds up to 5Gbps.
Faceup USB Design - USB3.0 ports are distributed faceup, more convenient to use than normal side USB design.
Compact Shape - Trapezoid vertical design keeps it fixed on desk and easy to travel with.