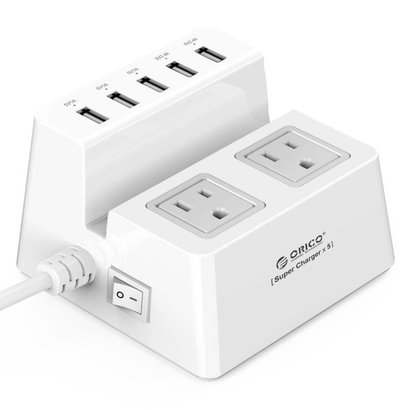 ORICO ODC-2A5U-US-WH Surge Protector Strip 5 USB Super Charging Ports w/ 2 Surge Outlets Stand For Tablet / Smart Phones US Plug - White
OR-ODC2A5UUSWH
Availability:

In stock (7)
Product description
Brand:

ORICO

UPC:

6954301130390

Article number:

OR-ODC2A5UUSWH

Availability:

In stock (7)
ORICO ODC-2A5U-US-WH Surge Protector Strip 5 USB Super Charging Ports w/ 2 Surge Outlets Stand For Tablet / Smart Phones US Plug - White
ORICO 2 AC Outlets Surge Protector
Turn one outlet into two with the surge protector. The 2 outlets surge-protector offers ultimate convenience and protection for computer electronics, home entertainment systems, and more.
Multi-protected Safety System
15000A max and 1700J surge-suppression rating, the unit optimally transfers power and helps keep plugged-in devices safe, especially during storms and power outages.
Built-in power switch, whose life is up to 6000 times, turns on / off as you need.
ORICO's multi protection safety system ensures complete protection from electrical short circuit, over heat, electric surge, over charging, over current and etc.
Its beautiful chassis made of PC & ABS plastic material makes it fireproof of up to 750I.
5 High Power Super Charging Ports
Ultra powerful 5 ports USB charger up to 40W, is able to charge 3 tablets and 2 smartphones simultaneously.
Integrated with fast charging technology that enables each port to detect and deliver ideal input current each time of up to 2.4A, 8A overall.
USB ports power down in case of shortcircuit happening avoid accidents.
Unique and Convenient Design
The safety guard protects children from an electric shock and prevent dust.
Phones and tablets stand enables you to watch video while charging.
There is natural anti-slip rubber footpads at the bottom, so that it is enough steady and hard to move for desktop use.

What is in the box
1 x ORICO 2 AC Outlets 5 USB Ports Surge Protector
1 x User Manual
1 x Service Card

2 AC outlets surge protector with 5 Ft. power cord, perfect for your home or office
Integrated with fast charging technology that enables each port to detect and deliver ideal input current each time of up to 2.4A, 8A overall of 5 USB ports
ORICO's multi protection safety system ensures complete protection from electrical short circuit, over heat, electric surge, over charging, over current and etc
Stand design gives a good support for phones and tablets; the safety guard protects children from an electric shock and prevent dust
What is in the box: 1 x ORICO 2 AC Outlets 5 USB Ports Surge Protector, 1 x User Manual, 1 x Service Card; We provide 18 Months warranty and lifetime technical support for purchase via ORICO direct