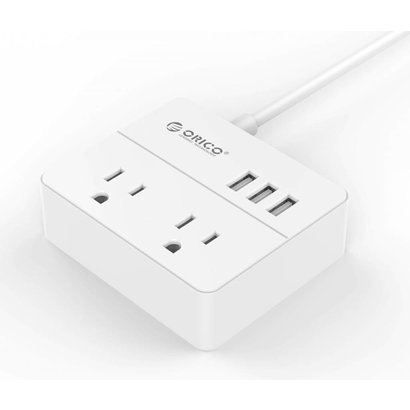 ORICO Surge Protector 2x AC and 3x USB Charger with High Strength and High Temperature Resistant Fireproof
OR-OSP2A3UUSWH
Availability:

In stock (80)
Product description
Brand:

ORICO

UPC:

6954301168959

Article number:

OR-OSP2A3UUSWH

Availability:

In stock (80)
ORICO Surge Protector 2*AC+3*USB Charger with High Strength and High Temperature Resistant Fireproof
Smart USB Charging Ports

Super Charger Technology with Smart IC automatically detect attached devices to provide the fastest possible charge up to 2.4 amps per port or 3 amps overal,compatibal for all Cellpone and Tablet and other USB device,like iphone,ipad,Sony phone,MP3,Power Bank,Bluetooth and more.

Outlets With Premium Protection
Surge Protection: protect your electronic devices when voltage fluctuates, swells, or spikes, (like hard drives against system crashes, data loss, and damage)
Overlaod Protection: Combined switch with overload protector,the overload switch will cut off automatically while power load exceed the power rating.
Anti-fire Protection:ORICO Product made from ABS+PC fireproof plastic material, High temperature resistant

SPECIFICATIONS
Power Capacity: 1250W,(125V 10A)
Interface:2 AC Outlets, 3 USB Ports
USB Input: AC 100-240V, 50/60Hz
USB Output:5V2.4A Max Per Port, 3A 15W

What is in the Box
1x ORICO 2-outlet 3-USB Surge Protector
1x User Manual
1x Service Card
Outlets - 2-outlet surge protector and 3-port USB charger ideal for powering up to 5 electronic devices simultaneously.
Charging - 3-port USB is built in Super Charge + intelligent IC, which can detect different devices and deliver ideal current for attached devices.
Surge Protection - With anti-surge integrated circuit, uninterruptedly absorbs spike current of high, medium or low intensity, protecting precision electric appliance all the time; thanks to the synchronous rectification technology, its conversion rate of energy is up to 88%; boost voltage or current to make up for lost voltage or current.
Material - High Strength and High Temperature Resistant Fireproof Material
Maximum load power - 1875W