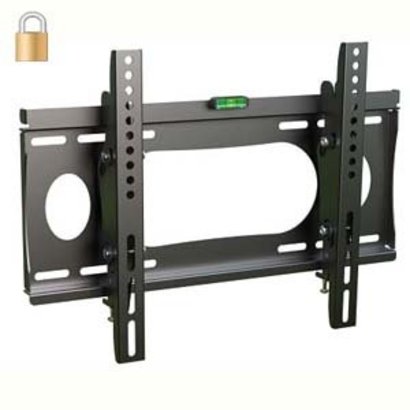 TV Mount 23-37" Tilt, Max 400x300mm VESA LCD Mount, Lockable
LCDM-502669
Availability:

In stock (1)
Product description
Article number:

LCDM-502669

Availability:

In stock (1)
Flat TV Mount 23~37" Lockable Tilt Slim Type BWLT102S
This tilt angle adjustable wall bracket is lockable and ideal for hotel rooms or public place installations. The mount supports most 23 to 37 inch mid size flat TVs up to 77 lbs weight. The back of the display sits 2.36 inch (60mm) off the wall when set straight up. Hardware is included for wood studs or concrete wall mounting.
* For 23 to 37" screen
Note: Supported screen size is provided as a reference only. Please check bracket dimensions above, and make sure overall braket size does not exceed TV set width.
* Tilt angle: 5 deg up ~ +15 deg down
* Max Load Capacity: 77lbs (35kg)
* Max VESA : 450 x 300mm (17.5" x 11.5")
* TV to wall: 2.36" (60mm)
* Design and construction: Solid toughened steel construction
* Durable scratch resistant finish in black
* Mounting hardware included
* Pad lock not included
* Bracket weight: 5.72lbs
* Box dimensions; 19 x8-1/4 x 2-1/4"
* Carton qty: 4
* Carton dimensions; 19-1/2 x 9-3/4 x 9"
Carton weight: 23lbs
** 1 inch = 25.4mm, 1lbs = 0.454Kg **