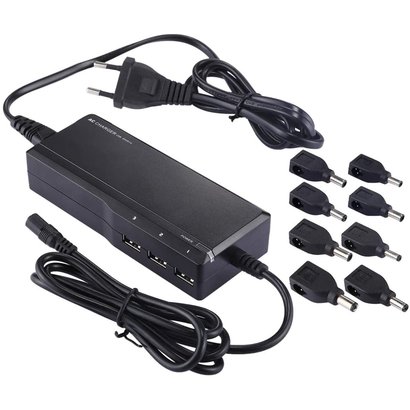 Universal 90W Laptop Power Adapter Charger
LE-ADU90
Availability:

In stock (48)
Product description
Article number:

LE-ADU90

Availability:

In stock (48)
High quality, Brand new, exactly .
Overload protection, over temperature protection.
Short-circuit protection, low energy consumption, power saving.
1. This model is a switching mode power supply for Laptop
2. This model operation at AC to DC input 110-240V, 50-60Hz, output DC seven voltages: 15V to 20V, 4A(max) output power 90W max
3. With protection functions: overload protection, short circuit protection, power supply by mains supply
4. With 8pcs(15V HG1 /16V HG2&HG3/ 18.5V HG4 / 19V HG5&HG7/ 19.5V HG8) tip connector to suit almost laptops, select output voltage to suit to laptop and make sure the polarity of tips connect correct before use
5. 15V HG1: 6.3x3.0mm, 16V HG2: 6.0x4.3mm, 16V HG3: 5.5x2.5mm, 18.5V HG4: 4.8x1.7mm, 19V HG5: 5.5x2.5mm, 19V HG7: 5.0x3.3mm, 19.5V HG8: 6.0x4.3mm
Product NO. : GSA090TD-3BP
Material : ABS
Input Voltage : 100-240V
Input Current : 1.65A
Power : 90W(max)
USB Output Voltage : 5V
USB Output Current : Total: 3A, Single USB Port: up to 2.4A
Weight : 427g
Please confirm model or voltage.