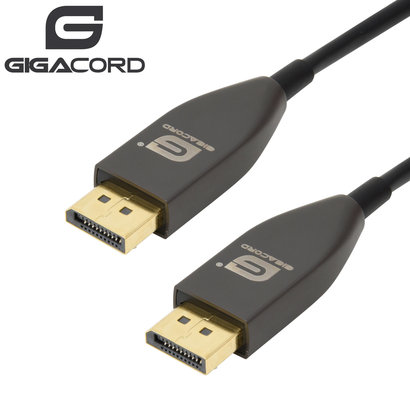 Gigacord DisplayPort 1.4 AOC cable, 8K@60Hz, RGB 4:4:4, 32.4Gbps, Slim, Flexible 4-Core optical Fiber with no signal loss (Choose Length)
DP-AOC015
Availability:

In stock (324)
Product description
Brand:

Gigacord

Article number:

DP-AOC015

Availability:

In stock (324)
Optical fiber construction between connectors provides optimum performance as well as easy installation, giving you a long lasting product and an ease to the installation process.
Has the ability to fit in compact spaces because of its smaller cable diameter and flexibility.
Reduced risk of EMI/RFI, which increases reliability and stability in typically high interference environments.
Performance stays constant even in data centers, surgical theatres, or manufacturing facilities where high resolution and consistent displays are extremely critical.
No external power sources are necessary because the AOC draws power from the DisplayPort.
Advantages of AOC over Copper Displayport Cables
Copper draws more power at longer distances which limits distance
No loss transmission over long distances
Fiber transmission speeds are much faster than Copper with larger bandwidth
Thin diameter of Fiber makes it easier to run along or through walls/conduit
Less EMI or RFI interference with Fiber
Surges are not affected by AOC cable
Part Number: Length
DP-AOC010: 10M / 32ft.
DP-AOC015: 15M / 49ft.
DP-AOC020: 20M / 65ft.
DP-AOC025: 25M / 82ft.
DP-AOC030: 30M / 98ft.
DP-AOC040: 40M / 131ft.
DP-AOC050: 50M / 164ft.
Reviews