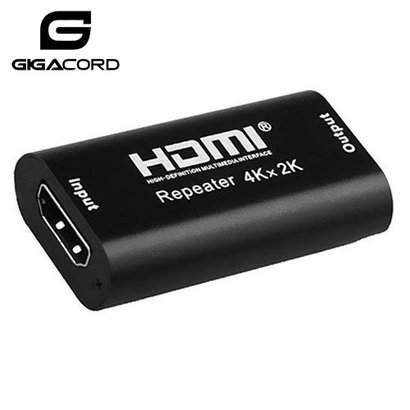 Gigacord HDMI Repeater 4K UHD HDMI Female to Female HDMI Amplifier 40' HDMI Extender Up to 40 Meters Lossless Transmission for Oculus Rift and More
GC-20100
Availability:

In stock (479)
Product description
Brand:

Gigacord

UPC:

643361201008

Article number:

GC-20100

Availability:

In stock (479)
Support 3D,4K*2K,1080P. Ideal for trade shows, classrooms, home theater, conference rooms, business office and retail applications.

HDCP compliant with HDMI, HDCP 1.4 ,1.1 and DVI 1.0, this HDMI Repeater is tested to guarantee performance and reliability.


Extends 4k,1080p/UXGA up to 40 meter transmission distance (15 meter on input side and 25 meter on output ,lower resolution signal can be transmitted longer)


It regenerates the incoming HDMI signal by decoding and re-encoding it to a new standard HDMI signal so it can extend the transmission range without degradation.


Place repeater close to the middle of the distance for best results (25 meter on Input side and 15 meter on Output side is an ideal setup).



Size: 51*28*12mm
Support HDMI 1.4b
Support 3D,4K*4K@30Hz
Complian with HDCP 1.4
Operation Frequency: up to 340MHz
HDMI Data Rate: 3.4 Gbps (Single Link)
Input Resolution: 480i/576i/480p/1080p/1080i
Output Resolution: 480i/576i/480p/1080p/1080i
Extender Distance: input 15M,output 25M
Package Details:
1 * HDMI Repeater