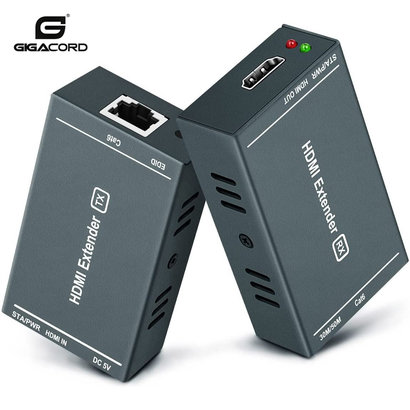 Gigacord HDMI Extender [email protected], 3D, Over Single Cat5e/Cat6/Cat 7 Cable Full HD Uncompressed Transmit Up to 164 Ft(50m), EDID and POC Function Supported (Transmitter and Receiver)
GC-23950
Availability:

In stock (166)
Product description
Brand:

Gigacord

UPC:

643361239506

Article number:

GC-23950

Availability:

In stock (166)
【FULL HD 1080P, TRANSMISSION 164 FT】 Supports resolution up to [email protected] and 3D visual enjoyment. Distance max up to 164 Ft (50m), stable, clear and smooth. Compliance with HDMI 1.3 standard. (We recommend using high performance Cat5e/Cat6/Cat7 cable to ensure reliable performance).

【POC FUNCTION】 Unilateral power supply, we use a special technology to allow the cable connected to the transmitter and receiver to transmit power. Only one power adapter can support the entire kit operation, reducing a lot of complicated operations. It is simpler and more convenient.

【EDID COPY FUNCTION】 This product has a very powerful EDID copy function, which makes it be able to identify the display device parameters and match it, enhance compatibility with the device, and adapt to various complex application environments.

【EASY INSTALLATION】Plug and play, no driver is needed, the metal shell is sturdy, the fuselage is equipped with heat dissipation ports, which effectively reduces the damage caused by heat to the machine and prolongs the service life.

【SPECIAL REMINDER】 Please note: In order to give you a high-quality visual experience, when the cable length is 0-82ft (0m-25m), you need to switch the switch to "30M". When the cable length is 82ft-164ft (25m-50m), you need to switch the switch to "50M".