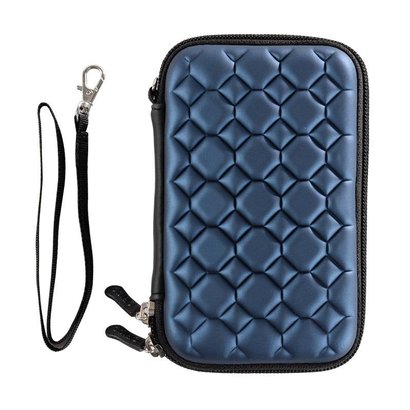 ORICO 2.5 inch Hard Drive Protection Bag (PHC-25)
OR-PHC25BL
Availability:

In stock (159)
Product description
Brand:

ORICO

UPC:

6954301130314

Article number:

OR-PHC25BL

Availability:

In stock (159)
ORICO 2.5 inch Hard Drive Protection Bag (PHC-25)

Digital storage, more and more indispensable
Digital gadget is everywhere, which we carry and use at any moment. What's more, tender digital products can not be invaded from aqueous vapor or dust, especially for hard drives. Then a digital storage bag will be your indispensable accessory.

External protection: Waterproof, dustproof, moistureproof
Made of excellent waterproof, dustproof and moistureproof neoprene, this storage bag keeps undistorted and not worn for long-term use, protecting your objects better. PU artificial leather provides further protection besides fashionable water cube style.

Soft inside, Thoughtful shock protection
Lining material is high density nylon, delicate and soft, plus thick shockproof sponge, effectively protecting your gadgets for a long time. Double zipper opening for easy access.

Small dimension, large capacity
Thanks to its reasonable interior design, the storage bag is capable of holding a 2.5 inch hard drive no shaking or slipping with the elastic belt. Beyond that, data cable, headphone or U-disk all can be placed inside, making full use of space.

Good partner while travelling
ORICO storage bag is your ideal digital accessory for management whether on business or on a trip.

Innovative use, ordered life
ORICO storage bag is not only for digital gadget but for small items or cosmetics. We focus on leading a ordered and wonderful attitude towards life besides advocating scientific storage.

What is in the box
1 x ORICO 2.5 inch Hard Disk Bag
1 x User Manual
1 x Service Card

External Protection - Waterproof, Dustproof, and moistureproof neoprene.
Soft Inside - High density nylon lining with shockproof sponge.
Small Dimenson, Large Capacity - Able to hold 2.5" drive as well as data cable, headphones, and USB drives.